Dr. Uchechi Mitchell
Title: Holding on to Hope: An analysis of Structural Risk Factors and Resilience Facilitators among a Racial Diverse Population of Older Adults
Hopelessness is an understudied consequence of structural violence. To date, population-level studies examining the relationship between discrimination and hopelessness among older Americans are non-existent. Rather, the extant literature has focused on hopelessness as a risk factor for poor physical and mental health and failed to examine its determinants, specifically within the context of structural violence and health equity. Thus, the overarching goal of this study is to assess the relationship between discrimination and hopelessness among U.S. older adults and to determine whether discrimination mediates racial/ethnic disparities in hopelessness. This study also seeks to determine whether social factors, such as social support, social engagement and neighborhood social cohesion, protect against feelings of hopelessness among individuals confronted with discrimination. This project is a secondary data analysis using publicly-available data from the Health and Retirement Study (HRS), a nationally-representative and racially and ethnically sample of adults age 51 and older. This project will assess the following aims: (1) Characterize between- and within-group differences in levels of hopelessness within the population of U.S. adults age 51 and older; (2) Determine whether exposure to discrimination explains, in part or fully, racial/ethnic differences in hopelessness among U.S. adults age 51 and older; and (3) Among older African Americans: Determine whether the effects of discrimination on hopelessness are buffered by social factors such as emotional social support, social engagement, and neighborhood social cohesion. In the end, the knowledge gained from this project can be used to inform initiatives that holistically address the needs aging racial and ethnic minorities, which can contribute to the mitigation and elimination of racial health disparities in the U.S. older population. The proposed research, therefore, meets objectives set forth by the National Institute on Aging (NIA) and Healthy People 2020.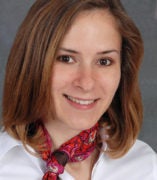 Dr. Mary Dawn Koenig
Title: Mitigating the effects of structural violence on maternal iron status: a randomized controlled pilot study of probiotic supplementation in at-risk pregnant Black women
Maternal iron deficiency (ID) and adverse maternal-infant health outcomes disproportionately affect Black women. Chronic exposure to structural violence can dysregulate a Black woman's stress response promoting systemic inflammation. Stress-induced inflammation can negatively affect iron metabolism and promote ID that compromises the health of pregnant women and their infants – a phenomenon that may explain maternal-infant health disparities in Black women. Thus, interventions that can mitigate the physiologic effects of chronic stress have the potential to improve maternal-infant iron status that translates to positive maternal-infant health outcomes. There is evidence that the probiotic LP299v can reduce the adverse physiologic effects of stress and normalize iron metabolism although, this has not been tested in the context of pregnancy. We will conduct a double blinded placebo-controlled randomized pilot study to determine the feasibility and tolerability of daily oral LP299v supplementation (15 weeks gestation – delivery) in 20 pregnant Black women from marginalized neighborhoods of Chicago and explore the effect of daily oral LP299v vs. placebo on maternal stress response and iron status, infant iron status at delivery, and molecular mechanisms (maternal microbiome) that may mediate the effect of LP299v on maternal stress- and iron-related outcomes. Additionally, because health-related resources for pregnant women are limited in many of the marginalized neighborhoods of Chicago, we will also build a sustainable university-community partnership with the community organization New Moms to disseminate research findings and promote lifestyle and dietary approaches to mitigate the effects of chronic stress from structural violence for at-risk pregnant Black women in Chicago.
Dr. Anne Elizabeth Glassgow
Title: The Effect of Neighborhood Disorganization on Engagement in Health Care, Mental Health, and School Attendance of Children with Chronic Health Conditions
Structural violence, including neighborhood living conditions that include racial residential segregation, concentrated disadvantage, and violence play an important role in producing and maintaining health disparities and socio-economic disadvantage. The proposed pilot study utilizes 4-year longitudinal data from the Coordinated Healthcare for Complex Kids (CHECK) program, which is a comprehensive pediatric care delivery demonstration project funded by the Centers for Medicare and Medicaid Services in the Department of Pediatrics at the University of Illinois Chicago Health and Hospital System. To date, CHECK has enrolled more than 17,000 children with chronic health conditions who are poor and reside in low-resource, violent neighborhoods. The specific aims of the proposed pilot project are to examine the effect of neighborhood disorganization on 1) patient engagement in a compressive pediatric healthcare services; 2) diagnosis of mental health disorders and mental health symptoms; and 3) school attendance. We hypothesize that neighborhood disorder affects family functioning and social support ties and the level of children's exposure to environmental stress. Consequently, this influences a family's capacity to engage in interventions for their children with health problems, leads to more mental health symptoms and higher rates of mental health disorders, and lower rates of school attendance. The community partner for the proposed pilot is Chicago Public Schools (CPS), and the Co-Investigator is Dr. Kenneth Fox, CPS Chief Health Officer. The proposed research will advance the understanding about deleterious effects of neighborhood disorganization and health, mental health, and academic outcomes in children with chronic health conditions.